vSNAP is an image backup option provided for GIO-US customers.
Specification
The vSNAP takes snapshot (point in time) image of Virtual Machine and stored in the dedicated storage unit. There are two types (local and remote) of service available.
1. Local Copy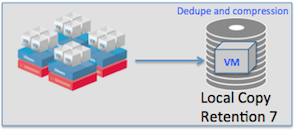 Local copy takes snapshot locally and stored in dedicated storage unit for backup.
Local Copy Option Available on
E series , VW series and R series.
2. Remote Copy

Remote copy is enhanced local backup service. It runs on top of local backup. It takes local backup first and then transfer image to other GIOUS data center.
Remote Copy Option Available on
Please ask sales rep for details.
RTO (Recovery Time Objective)
IIJA will respond image restore request from customer during IIJA business hours(*1)(*2). Recovery Time for Each Guest OS varies by the disk capacity and its density. The virtual machine with higher data density takes longer time to restore.
Benchmark (RTO)

Local and Remote copy RTO is near equal due to current vSNAP architecture.
RPO (Recovery Point Objective)
Daily Backup Every 24 Hours or 1 day Interval
Weekly Backup Every 168 Hours or 7 day Interval
Retention Policy
7 generations for Daily or Weekly backup.
Data Export (onetime T&M basis)
IIJA can export data locally to USB drive for archiving needs. If your organization requires to export and archive data (e.x. file server data) by annually or semi annually, we can help. Please consult with IIJ America sales rep for details.
(*1) IIJA Business Hours (Mon-Fri) 9:00-20:00 ET except Holiday.
(*2) Off business hours restore will be an additional charge and it is subject to availability of technician.